Indian cricketer MS Dhoni holds a unique record of leading the team which has won all the ICC trophies.
He led Team India to victory in World T20 2007 when most of the senior players had taken aback after the poor show in ICC ODI World Cup.
He fulfilled the dream of Indian batting legend Sachin Tendulkar to lift the ODI World Cup in 2011.
With a young brigade under his leadership, he also won the ICC Champions Trophy in 2013 hosted by England.
India attained the number 1 spot in ICC Test rankings for the first time under Dhoni's captaincy in December 2009.
Here are the top 5 reasons why India love MS Dhoni :
5.) Captain Cool
MS Dhoni rarely shows his emotions on the field. Looking solely at his expressions, an uninformed observer would be hard-pressed to determine the situation of the match.
May it be finishing the match with a six in ICC ODI World Cup 2011 or running out Bangladeshi batsman Mustafizur Rahman in World T20 2016, Dhoni kept his calm and lead his team towards the victory which looked shaky at a moment both for the team players and the Indian fans.
4.) Finish the match with a six
If India are chasing and MS Dhoni is at the crease, there is most probably a win on the cards irrespective of the situation. And when it is to hit the winning shot, it is expected that Dhoni hits a six to finish the game. He has done it 9 times in ODIs and twice in T20I's.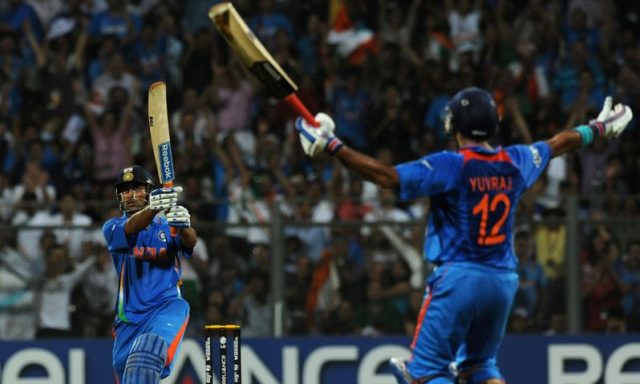 3.) Game-changing decisions
Dhoni has made a career out of winning matches with logic-defying, yet game-changing decisions.
In the final match of T20 World Cup 2007, Dhoni trusted the unheralded Joginder Sharma to bowl the last over ahead of experienced off-spin bowler Harbhajan Singh.
If Dhoni believes in something, he never hesitates to try it out and this has also come back to bite him on several occasions. Be it his quixotic bowling changes in Test cricket or team selections in crucial games. Dhoni has regularly been chastised for making poor decisions. But this is to be expected in a cricket crazy nation like India.
In recently concluded World T20 2016, he took the brave decision of handling the ball to Hardik Pandya. He trusted the youngster's ability, who at last managed to pull off an incredible victory.
2.) One of the World's best entertainer
Sport is meant to entertain and the millions of people watching the game want to get their money and time worth. This is never more apparent than watching Dhoni perform.
Every move by the Indian skipper excites the spectators. With bat in hand, Dhoni is capable of being as brutal as a former Indian opener as Virender Sehwag.
During wicket-keeping, he often leaves audiences in splits. They provide a refreshing background to the action in the game.
1.) Love for the Nation
While India tour of Australia in 2015, Dhoni was blessed with a little princess but he did not come back home to meet his wife and the newly born child because as per his statement he was on National duty and everything else could wait.
Dhoni was conferred with the rank of honorary lieutenant colonel in the elite Parachute Regiment by the Territorial Army in November 2011. He had stated then that he wanted to serve the Army after retirement.