Former Team India's skipper MS Dhoni is likely the only player who had achieved enormous recognition for India. Probably, Dhoni is the only person in the cricketing world who had an equal number of fans and haters.
Despite his successful career as the Indian Captain and as a player, he has been criticized over the years due to some reasons.
Here are the top 5 reasons why MS Dhoni is not liked by fans:
5.) Exclusion of senior players
Ever since the time Dhoni took over as captain in 2007, many youngsters from the domestic circuit were given a chance to play for India. But this also meant that seniors had to be omitted from the squad. Except Sachin Tendulkar, most of the seniors were dropped from the future ODI series. After 2011, World Cup, Gautam Gambhir, Zaheer Khan, Yuvraj Singh, Harbhajan Singh and Virender Sehwag didn't get opportunities in their further matches.
4.) Overseas records in Tests as skipper
Dhoni was handed over the Test Captaincy responsibilities in 2008 from Anil Kumble. As MS Dhoni won the 2007 T20 World Cup, BCCI has decided to elect Dhoni as the New Captain after Anil Kumble. Dhoni had seen huge success in the beginning in few home series against Australia, New Zealand and few other teams. These wins made India take the first position in Test rankings.
However, the worst was yet to come. India failed to win any overseas series from 2011 onwards, having lost embarrassingly to Australia and England 4-0, and also failing to win against South Africa and New Zealand on their turf. In Dhoni's last series against Australia down under which India again lost, there were talks about changing the Test skipper. But Dhoni soon announced his retirement from Test cricket, midway through the series, thus handing over the reigns to Virat Kohli.
3.) Preferring CSK players into the squad
This was the main reason why Dhoni had haters. They point out saying that Dhoni always prefers to give the chance to CSK players despite their poor performances. There is no doubt that IPL has produced some exceptional Indian talent over the years, with players like Yusuf Pathan, Suresh Raina, Stuart Binny, Ravichandran Ashwin and others excelling for India in national colours.
2.) Selecting players despite their poor performances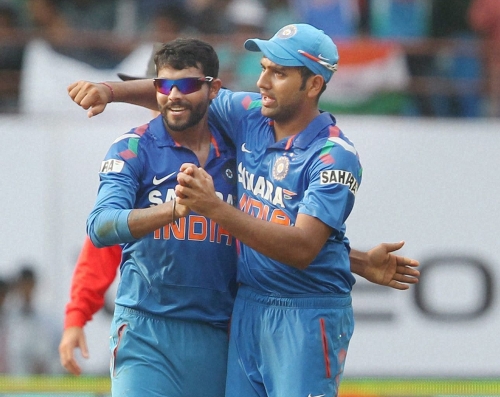 Dhoni is well known for keeping faith in few players despite their poor performances. An example for this statement is star batsman Rohit Sharma. During the 2012-13 seasons, Dhoni backed the selection of Rohit Sharma and promoted him to the opener's slot despite producing a string of poor scores. However, after those poor scores, Rohit replied with some outstanding performances.
Another player is Ravindra Jadeja. Dhoni had a lot of faith in Jadeja which produced very poor results. Jadeja has been given many chances in team India, he was picked over many talented players for India tour of New Zealand and England in 2014.
1.) Dhoni's fading finishing ability
MS Dhoni is widely considered to be one of the greatest finishers of the game. His finishing style is the stuff of legends. There have been numerous occasions where Dhoni has pushed India over the finishing line, and in the process, earned that incredible distinction of the Number 1 finisher in the game.
However, there are times when Dhoni couldn't finish the match, even though India was on the cusp of victory. Dhoni's finishing ability has seen a steady decline over the last few months.
And also there are the people who do not know anything about Cricket and just gives their views on India's most successful captain by hearing somewhere.