Actor Sushant Singh Rajput, who played the role of former India cricket captain MS Dhonion the big screen in 'MS. Dhoni: The Untold Story' revealed the life lessons he learned from Dhoni and Sachin Tendulkar.
In the highly anticipated sports biopic 'Sachin: A Billion Dreams' has now been released and the Master Blaster recently organized a grand premiere for personalities from the sports and the entertainment world. The movie tracks Sachin's journey from an aspiring cricketer to one of the best batsmen in the world.
During the premier, Sushant revealed that how he could do justice to the character in his films. "All the good takes I give are those where I don't know what I did. The moment I am talking about something that is very close to me or gives me excitement, I am fidgety, I get restless. Then, I don't know what I am doing. But at the same time, if you ask me, am I confident? Of course, I am, I can pull off a Dhoni," the actor was quoted as saying.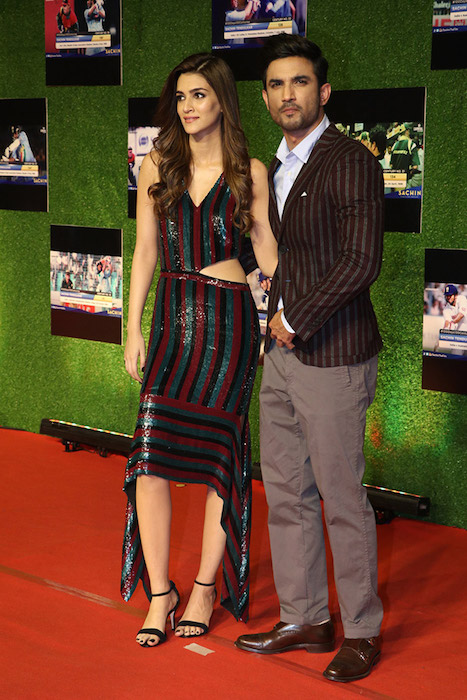 Talking about preparations for Dhoni's biopic, he said: "While I was preparing for cricket training, my knees turned black and blue. I could have played with a softball but I wanted to convince myself first. I had to play with a hard ball and whack those hard balls to Sixers."
The actor also revealed during the whole preparation he was nervous but meeting the great legend was the best moment. He further elaborated that there was one incident that gave him an immense amount of confidence just before the start of the film.
"I was practicing at the Maharashtra Cricket Association (MCA) with Kiran More, and Sachin Tendulkar was sitting in the first row. Sachin was watching his son on the next wicket. It was last 15 minutes of my practice, I could hit the ball wherever I wanted. There were helicopter shots, and I went on hitting. I was enjoying it because I always wanted to play cricket and I could never get into my school team. Sachin walked down, he walked up to Kiran More and asked him who I was representing, because, at the MCA, only the professionals who play for the state are allowed. But Kiran told him that I was an actor and I was playing Dhoni. Sachin didn't say anything but that expression on his face was priceless, it said everything."