If India has to tell the tale of two youths who are representing the country on a global platform in the present scenario, Virat Kohli and Manushi Chillar have to be the top candidates.
This country loves the game of cricket and it has produced one of the modern era greats in the form of Virat Kohli. The Indian skipper is absolutely brilliant with the bat and the kind of pace he is on while making centuries Kohli might overtake batting legend, Sachin Tendulkar.
Manushi Chhillar, on the other hand, brought laurels as she was recently crowned as the Miss World 2017, ending a 17-year drought for India. The last Indian to bag the title was Priyanka Chopra, who wore the crown in 2000.
Manushi like over a billion Indians loves cricket and seems to be inspired by Virat. The duo shared a common stage at the CNN-IBN Indian of the Year 2017 Awards night and the Miss World took the opportunity to ask a question to the man who sets new records with incredible frequency across all three formats.
Kohli presented Manushi with a special achievement award as well.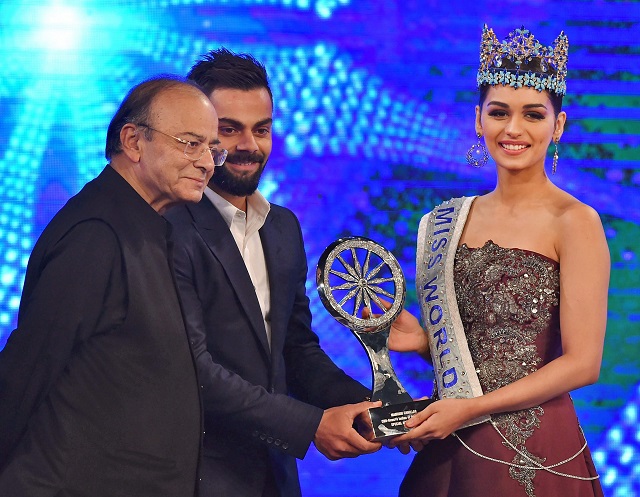 Manushi's question for Virat was how he intends to give back to the game and the well-spoken superstar replied with a crisp answer.
VIDEO: Virat Kohli hands over Manushi Chhillar the "Special Achievement" award
Kohli replied, "Well, what's very important to understand is when you do what you do and you express yourself on the field, it has to be genuine and it has to be from the heart. Otherwise, if people find out that you're trying to pretend, then they can never connect to you. I've never tried to be anyone else. I've always been myself; I always mention that people had a lot of issues with how I was, how I conducted myself, but I had never had any problems with that."
The captain also stressed on the fact that people should not lose their personal identity, as they won't be able to inspire others by trying to be someone else. "Everyone has to go through a mutual process to be where they get in life, to become more mature. What's very important to understand is that one should never lose their identity, character, and personality. Because if you try to be someone else, you can never succeed and you can never inspire others," he added.
Here is the must-watch moment between two young achievers on the public stage: