Defending champions India will take on arch-rivals Pakistan in a group stage match of the Asia Cup 2018 on September 19 in Dubai.
India will open their campaign against a Qualifier on 18 September, the ICC announced on Tuesday.
India, Bangladesh, Pakistan, Sri Lanka and Afghanistan are the confirmed participants while the remaining two spots are up for grabs and will see UAE, Singapore, Oman, Nepal, Malaysia and Hong Kong fight for them.
Group A will have India, Pakistan and the qualifier while Group B will consist of Sri Lanka, Bangladesh and Afghanistan.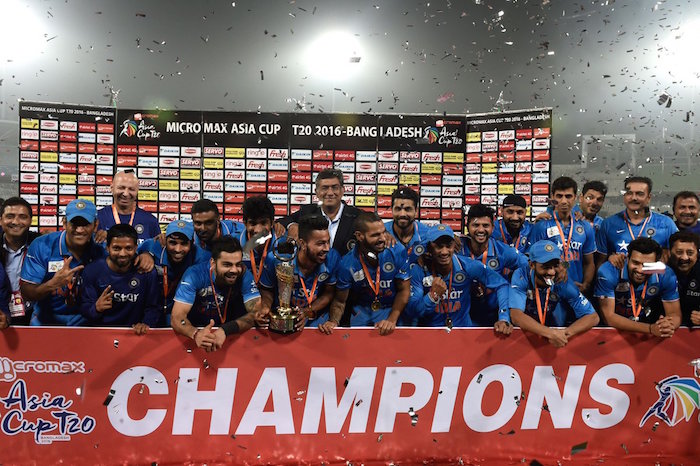 The opening game will be played between Bangladesh and Sri Lanka on September 15 in Dubai and the final will take place on September 28.
The top two teams from each group will qualify for the Super Four, which is a round robin format, from where two teams will then play the final in Dubai.
Asia Cup schedule:
Group Stage
15 September – Bangladesh vs Sri Lanka (Dubai)
16 September – Pakistan vs Qualifier (Dubai)
17 September – Sri Lanka vs Afghanistan (Abu Dhabi)
18 September – India vs Qualifier (Dubai)
19 September – India vs Pakistan (Dubai)
20 September – Bangladesh vs Afghanistan (Abu Dhabi)
Super Four
21 September – Group A Winner vs Group B Runner-up (Dubai)
21 September – Group B Winner vs Group A Runner-up (Abu Dhabi)
23 September – Group A Winner vs Group A Runner-up (Dubai)
23 September – Group B Winner vs Group B Runner-up (Abu Dhabi)
25 September – Group A Winner vs Group B Winner (Dubai)
26 September – Group A Runner-up vs Group B Runner-up (Abu Dhabi)
Final