Debate is once again raging after England fast bowler Katherine Brunt did not complete a Mankad run out in the ongoing Women's T20 World Cup during the final over of the match against South Africa.
With the Proteas needing 7 off 4 balls, the non-striker Sune Luus left her crease early as Brunt came running in into bowl.
Instead of dislodging the bails, Brunt gave Luus a warning.
After Brunt's caution, South Africa's Mignon du Preez smashed a six followed by another boundary to win her team the game with two balls to spare.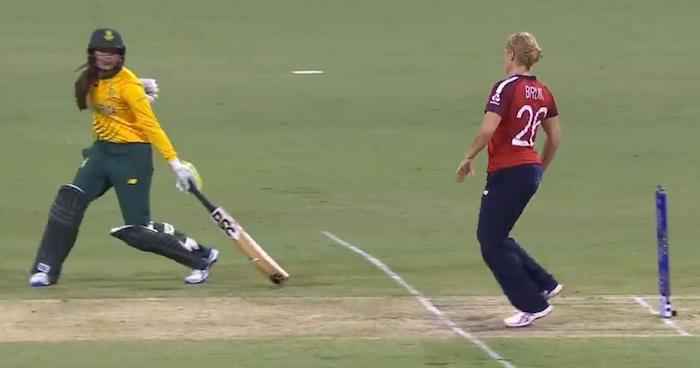 However, it was Brunt's tough decision that had the cricket world talking after the match.
Commentators and experts around the world have responded to the controversial moment by both applauding Brunt's display of sportsmanship and deriding her for failing to capture the dismissal.
Ayabonga Khaka did exactly the same while brunt was batting, fair play from both teams. https://t.co/mx5Zp0wJMQ

— Marizanne Kapp (@kappie777) February 23, 2020
https://twitter.com/dizzy259/status/1231730011817664512
Well within her rights to run her out. https://t.co/RhoMcKuWcY

— Andrew Wu (@wutube) February 23, 2020
This is exactly the kind of scenario that led to the MCC relaxing the run-out rules. Luus was very, very lucky that Brunt was reluctant to do it. pic.twitter.com/sy8w4UgtXC

— Brydon Coverdale (@brydoncoverdale) February 23, 2020
Isn't it against spirit of the sport not to mankad when it's right as per law.

When a Bowler oversteps without an intention to take unfair advantage, so Batsman can leave or defend the freehit?

IMO, When its within rule, not doing Mankad is wrong.

— Prabhu (@Cricprabhu) February 23, 2020
Well within her rights to run her out. https://t.co/RhoMcKuWcY

— Andrew Wu (@wutube) February 23, 2020
contributed to* costing England, etc. I'm not going down twitter's Mankad sewer today but, in short, it's only logical that one event influences the next. If the runout was completed, the game's circumstances change. It's not as simple as "well, MdP hit the next ball for six."

— Adam Collins (@collinsadam) February 23, 2020
This is exactly the kind of scenario that led to the MCC relaxing the run-out rules. Luus was very, very lucky that Brunt was reluctant to do it. pic.twitter.com/sy8w4UgtXC

— Brydon Coverdale (@brydoncoverdale) February 23, 2020
It is against the "spirit of the sport" (no clue what that is) for the non-striker to leave the crease.

— Abhishek Mukherjee (@ovshake42) February 23, 2020