England pacer Katherine Brunt's decision not to execute a 'Mankad' run out in the ongoing Women's T20 World Cup is the talk of the cricket world after South Africa went on to record their first-ever win over England at an ICC event in a thrilling last-gasp run chase at Perth.
Brunt, beginning the final over with South Africa requiring nine runs to win, had non-striker Sune Luus gone for all money when she left her crease before the ball was bowled – but with a potentially game-saving wicket there for the taking, the 34-year-old instead handed Luus a sporting caution instead of dislodging the bails.
The moment of high drama was followed by another in the next delivery.
After consecutive singles, South Africa needed seven runs to win from the final four deliveries.
After Brunt's waring to Luus with four balls remaining, South Africa's Mignon du Preez smashed a six, followed by another boundary to win her side the game with two balls to spare.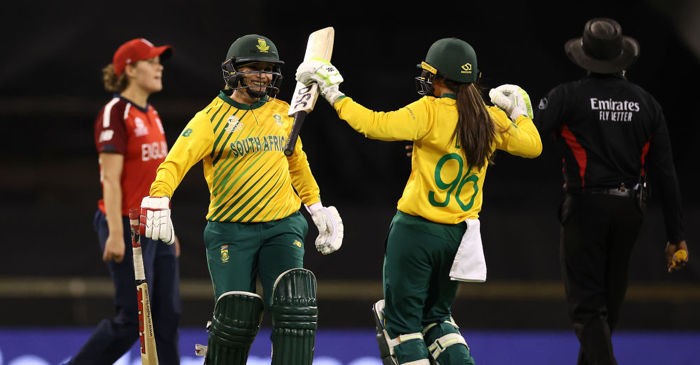 The 'Mankad' run-out has long provoked passionate debate among cricketers and fans of the game, with some arguing the bowler is well within his or her right to run out a non-striker getting a head start.
The other side of the debate is that the bowler should give a warning to the non-striker and completing a 'Mankad' run out and that without a warning is against the spirit of the game.
Reacting to Brunt's decision of not completing a 'Mankad' run out, former Australian seamer Jason Gillespie on Twitter wrote: "I find it interesting that it's always the bowler who is questioned in these circumstances re 'spirit of cricket'. The batter is clearly gaining an advantage, yet it is always the bowler that has the focus on them.
Stick to the laws of the game."
India off-spinner Ravichandran Ashwin, who pulled off the 'Makad' run-out to dismiss Jos Buttler in the 2019 edition of the IPL, agreed with Gillespie's words and 'retweeted' the former cricketer's post.
Earlier this month, England veteran James Anderson responded to a Twitter video of a 'Mankad' run out in a game at the U-19 World Cup by asking the ICC to remove the law.
Can we sort out (remove) this law please @ICC #MCC?? https://t.co/dec60oogif

— James Anderson (@jimmy9) January 31, 2020