Representing one's country in any sport is a great matter of pride for any sportsperson. It is always the ultimate dream for any individual who pursues sport and sees oneself reach bigger heights.
There have been numerous instances where a sportsman has changed his country and relatively done well. Even in cricket, such instances have been witnessed where players have represented two nations.
Former England skipper Eoin Morgan is the biggest example; who started the cricketing journey representing his birth country Ireland before moving to England and making them World Champions in 2019.
But Morgan only played ODIs for both Ireland and England. When it comes to the shortest format, the list is a bit different with the likes of Mark Chapman, Dirk Nannes, David Wiese, and a recent star Tim David.
On that note, let's have a look at those cricketers who represented two countries in the shortest format of the game:
Ed Joyce

Ed Joyce played two T20Is for England during 2006-07 before moving to Ireland, where he played 16 matches from 2012 to 2014.
Luke Ronchi

Luke Ronchi played for Australia during 2008-09, where he appeared in three T20Is. The wicketkeeper then shifted to the neighbouring nation of New Zealand, where he played 29 matches.
Dirk Nannes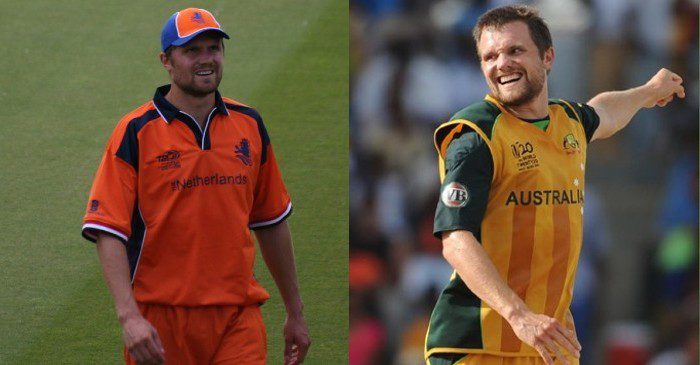 Dirk Nannes made a name for himself when he donned the Australian jersey as a clever fast bowler. However, the Victorian had earlier represented the Netherlands in 2009.
Boyd Rankin

Boyd Rankin has an interesting career as he began his international career for Ireland in 2009 and stayed there till 2012 before he moved to England and played for the English side in the subsequent year. Upon not getting success and enough chances, Rankin again moved back to the Irish side in 2016 and played till 2020.
Roelof van der Merwe

Roelof van der Merwe was picked by Cricket South Africa (CSA) for the T20Is against Australia in 2009. However, in 2015 he moved to the Netherlands and has been a core member of the Dutch side since then.
Mark Chapman

Mark Chapman played for Hong Kong from 2014 to 2016 before he shifted to New Zelaand and has been representing the Black Caps since. He played 19 T20Is for Hong Kong and has so far appeared in 22 matches for New Zealand.
Xavier Marshall

Xavier Marshall debuted for West Indies during 2008-09 and played six T20Is. He was then dropped and didn't appear for a while. Marshall was then seen in 2019 representing the United States.
Izatullah Dawlatzai

Izatullah Dawlatzai played 4 T20Is for Afghanistan in 2012 before changing his team and representing Germany in 2019-20.
Hayden Walsh

Hayden Walsh, the Antiguan cricketer, attained success as a quality spinner for West Indies. He is the core part of the Caribbean side and also participates in various T20 League around the world. But surprisingly, Walsh began his career while representing the USA team in 2019. He played 8 T20Is for the USA before getting picked for the Windies' national side.
David Wiese

David Wiese represented South Africa in 20 T20Is during 2013-16 before representing Namibia in 2021. He has played a key role in bringing Namibia on a global map with his all-round performance in the 2021 T20 World Cup.
Jade Dernbach

Jade Dernbach was part of the England national T20 side during 2011-14. He played 34 T20Is for the three lions before getting dropped for being inconsistent in the demanding format. He moved to Italy in 2021 and played 6 games in the shortest format.
Amjad Khan

Amjad Khan played only a solitary T20I for England in 2009 and never got any chance to represent the English team again. In the 2021-22 season, Amjad represented Denmark and played eight games.
Rusty Theron

Rusty Theron played for South Africa during 2010-12 and couldn't get any more opportunities. He moved to the United States and played nine games in 2021-22.
Michael Rippon

Michael Rippon debuted for the Netherlands in 2013 and was part of the side until July 2022, when he shifted to New Zealand. Rippon played 18 T20Is for the Dutch side and one for the Black Caps.
Daniel Jakiel

Daniel Jakiel, the right-arm pacer, represented Zimbabwe in 2019, playing a couple of T20Is before moving to Malawi. He has so far played 10 games for the landlocked country in southeastern Africa.
Tim David

Tim David rose to success with his power-hitting in 2019-20 for Singapore. He played 14 games before moving to Australia in 2022. The right-handed batter has so far played 11 games Australia.