Bollywood diva Urvashi Rautela faced heavy criticism on social media for alleged 'mental harassment' after she uploaded a photo of the hospital where injured Rishabh Pant is admitted.
Urvashi and Pant have grabbed the headlines multiple times for their comments about each other. It all started when the model-tuned-actress gave an interview where she talked about a certain Mr. 'RP' giving her missed calls after she did not go to meet him. Pant responded cheekily via Instagram, asking Urvashi to leave him alone.
When Pant met with an unfortunate accident last week, Urvashi shared a photo on Instagram and captioned it as 'Praying'.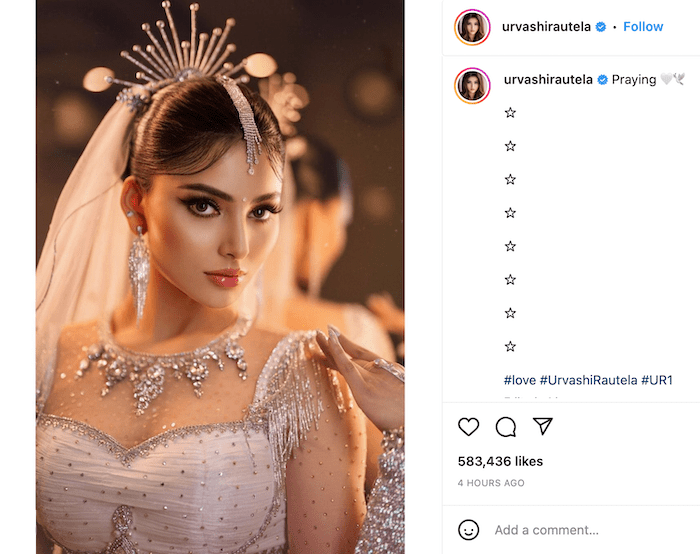 She even took to Twitter and wrote: "I pray for you & your family's wellbeing."
I pray for you & your family's wellbeing.

— URVASHI RAUTELA🇮🇳 (@UrvashiRautela) December 30, 2022
On Thursday, Urvashi uploaded a picture of the Kokilaben Dhirubhai Ambani hospital on her Instagram story, revealing she was in Mumbai at that moment.
As soon as the 28-year-old shared the photo of the hospital on her social media account, netizens started taking a dig at her. Sharing the screenshot of her Instagram story on Twitter, one user wrote, "This is mental harassment. If a man did this, he'd either be in jail or have a Netflix crime documentary in his name."
This is mental harrasment. If a man did this, he'd either be in jail or have a Netflix crime documentary in his name. pic.twitter.com/q2f4BmK7Xk

— Sagar (@sagarcasm) January 5, 2023
Another one tweeted, "If you feel this is absolutely sick and @UrvashiRautela needs to be finally called out for it, please tag her and say #GetWellSoonUrvashi."
If you feel this is absolutely sick & @UrvashiRautela needs to be finally called out for it, please tag her and say #GetWellSoonUrvashi

— Deepika Narayan Bhardwaj (@DeepikaBhardwaj) January 5, 2023
Twitterati unhappy with Urvashi
Urvashi Rautela at Kokilaben Hospital after knowing Rishabh Pant has been admitted there.. pic.twitter.com/DmTNkXAGwk

— your time's up.🪔 (@TakeTheJab) January 6, 2023
Urvashi Rautela's stalking of Rishabh Pant continues. Creepy madness. pic.twitter.com/e5VPugAU6o

— Khalid Baig (@KhalidBaig85) January 6, 2023
The most toxic women of the century award goes to Urvashi Rautela 🤡

— Sabudana khichadi (@Dishasatra) January 5, 2023
Is #UrvashiRautela obsessed with #RishabhPant or is it coincidence every single time? 🫤

— Neharika Sharma (@neharikasharmaa) January 6, 2023
What #UrvashiRautela is doing is just an attempt to get attention in the name of #RishabhPant .
If she loved him, She could have met him when he was in #Dehradun but now uploading these pic to be in limelight.🤦💔#RishabhPantCarAccident pic.twitter.com/1xmXRsrZn1

— Tanisha Sarania (@SaraniaTanisha) January 6, 2023