Royal Challengers Bangalore (RCB) winning the Indian Premier League (IPL) trophy was a dream that many of its ardent fans saw when the tournament began a decade ago in 2008.
A club with a massive fan base, star-studded line-ups and an electric home atmosphere, it is almost criminal that the RCB still hasn't won a single trophy as yet. Like every other year, this year too, RCB entered the IPL 2019 as a strong contender for the trophy but started off on a poor note by getting bowled out for 70 runs against the Chennai Super Kings (CSK).
This year, captain Virat Kohli could come under some serious questioning if he fails to lead RCB successfully – his seventh straight season as skipper for the franchise.
Former India opener and two-time IPL-winning captain Gautam Gambhir has already fuelled the debate saying Kohli is lucky enough to continue with the RCB captaincy despite not being successful. Now, the former Australia seamer Mitchell Johnson has also taken a subtle dig at Kohli, his old foe, saying that the RCB could win the tournament this year "if they got rid of their captain".
The 37-year-old former left-arm pacer, on Insta AMA (Ask Me Anything), wrote this when asked about RCB's chances of winning the tournament this year.
Johnson was more direct in his digs at Kohli during India's tour of Australia 2018-19. The two players had their share of confrontation Down Under in the past and it seems the former Aussie speedster is not ready to let go any chance to take a potshot at Kohli, even if in the garb of a joke.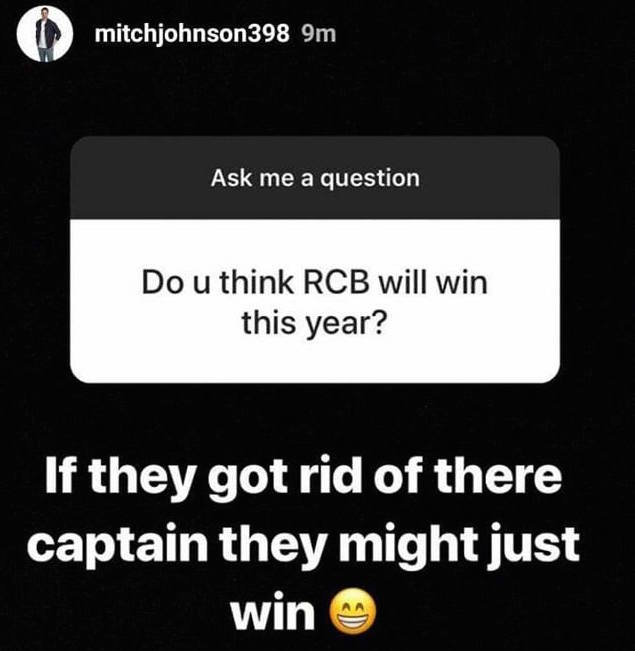 Meanwhile, Kohli has led RCB to 44 victories and under his captaincy, the team has lost 48 matches.