The man who redefined every notion of big-hitting through the 12th edition of the Indian Premier League (IPL), inning after inning. It wasn't one of those clichéd repetitions from the commentary box; impossible, really, was nothing when Andre Russell was out in the middle.
Prior to 2019, no team had ever successfully hit more than 50 runs in the final three overs of a run-chase. In the first two weeks of the season, Russell did it twice – on the second instance, he had taken KKR home with five balls to spare.
Russell batted 13 times in IPL 2019, and only thrice did he actually face more than 25 balls – yet, he finished with over 500 runs.
As if all that wasn't enough, he was also the leading wicket-taker for the Knight Riders.
In 14 matches, Russell amassed 510 runs at a sensational strike-rate of 204.81 and claimed 11 wickets at an economy of 9.51. His all-round performance won him the Most Valuable Player (MVL) award for the season.
Andre's wife Jassym Lora, who was always there alongside the KKR all-rounder, was all over the moon as her husband received the coveted award at the IPL 2019 and congratulated him in the most adorable fashion.
"Sometimes I look at you and wonder how I got to be so d*mn Lucky!" she wrote in her Instagram post.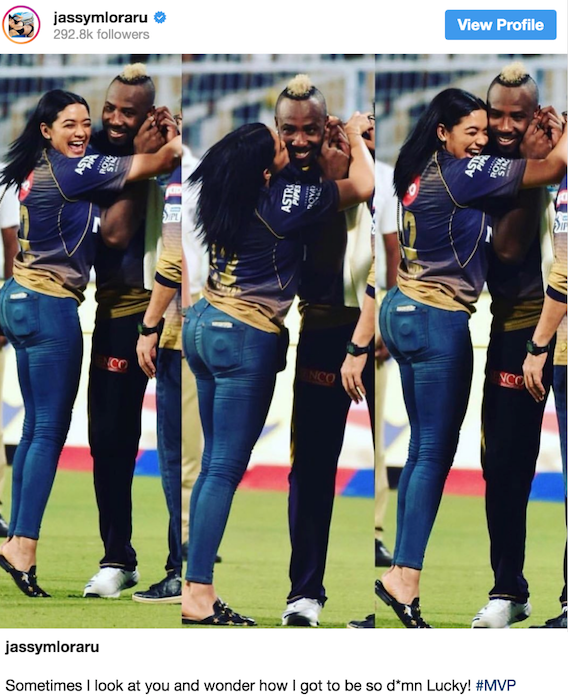 Jassym was inarguably one of the most popular WAGs during the IPL season. She not only set social media on fire with her presence but also won many hearts.